We are encouraging all our customers to call your parts orders in ahead of time for outside parts pick up.
Please call us at 740-567-3317 for updates to our operating status.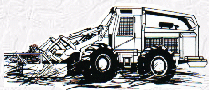 For 60 years, BAKER & SONS EQUIPMENT CO. has served the industries in the tri-state area of Ohio, West Virginia and Pennsylvania. This is a family owned business with many long-time employees. We stress having a large parts inventory and factory trained mechanics for in shop or on the road service.

BAKER & SONS EQUIPMENT CO. is a forestry, land clearing, and agricultural equipment dealer. We specialize in Hydro Ax- Prentice brush cutters and feller bunchers, TimberPro feller bunchers and forwarders, CSI slashers, Duratech tub grinders, tromel screens, compost turners, Franklin log skidders, Hood knuckleboom loaders, Pitts trailers, New Holland tractors and hay tools, Massey Ferguson tractors, and other related equipment.