We are encouraging all our customers to call your parts orders in ahead of time for outside parts pick up.
Please call us at 740-567-3317 for updates to our operating status.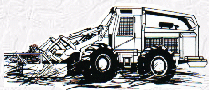 For over 40 years Baker & Sons Equipment Co. has been supplying the forestry and land clearing industries with new and used equipment. We've grown to have one of the largest used equipment inventories in the region. Included in our acres of inventory we have a full line of products which cover many aspects of the forestry and land clearing industries. We specialize in Hydro Ax brushcutters and feller bunchers, Franklin log skidders, Hood knuckleboom loaders, Duratech grinders, Prentice fellerbunchers and TimberPro feller bunchers and forwarders along with other brands of related equipment, which have proven to be productive and economical investments as well as cost effective for our customers.
We have a large new and used parts inventory as well as factory trained service specialists in the shop and on the road; to keep our customers down time as minimal as possible. Our main goal is the satisfaction of our customers above all else.
Financing or leasing is available at Baker & Sons Equipment Co. with various finance companies and local banks. We can offer a wide array of payment terms such as monthly, semi-annual and annual as well as skip payments on retail contracts and leases.
For your equipment needs reach